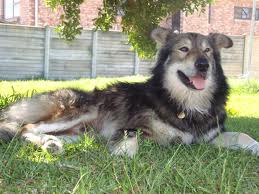 Tragedy can strike in the most unexpected and unusual fashion. We rarely consider catastrophic events as we go through our day to day life dealing with responsibilities at work, as well as social and family matters.
Charlie used to belong to a wonderful family with small children, but their world was turned upside down. The father succumbed quickly to a terrible disease putting the family into a desperate situation. They put up a futile struggle to keep their home, but then had to move in with relatives. Unfortunately, there was no way that Charlie would be able to live here. The family pet had to be given up.
He is a Labrador X Shepheard cross-breed and will soon be seven years old. He is neutered and all his vaccines are up to date. He has a terrific personality and won't have trouble fitting in anywhere presently, Charlie has a skin condition which we are treating and will continue to do so at no cost to any family that may adopt him. If you think you can provide a happy ending to Charlie's unfortunate predicament by giving him a home, please call us.
UPDATE: Charlie has been adopted!!