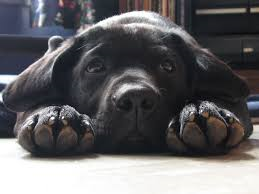 When Diesel visited the hospital, he was just five weeks old. He had lesions on his feet and even worse, a severely infected tail. And there begins the tale of Diesel's tail.
Joy, Diesel's owner, had visited her mechanic and he told her of a mixed Labrador that had just whelped eleven pups. The mother had her own outdoor home which was quite suitable, but with eleven growing pups, it began to be a tight fit. The pups' tails would escape through the openings in the doghouse. rats soon found their tails. as soon as the owner discovered this situation, he hurriedly contacted the prospective new owners. Joy brought hers to the veterinarian, who did not like the state that little Diesel was in, but he was prepared to do battle. he prescribed creams and antibiotics. By Diesel's recheck appointment, the veterinarian was still not satisfied.
He expected that he would be forced to amputate the tail and informed Joy. Miracles do happen though. This week, Diesel returned for a recheck. He nosily found every hiding spot in the office. Joy could be heard frequently admonishing him. "No, Diesel! Don't do that Diesel!" The veterinarian reports that he has vastly improved. His tail is viable and now has feeling. There will be no need to amputate. Fur has grown back and Diesel, at three months, is no longer the timid pup who would not allow anyone to touch him. Joy and her fiancé, Allan, named him Diesel because of the mechanic who told them about him.
Diesel is up to playing puppy tricks at home. He chooses anything belonging to his new owner to pull his pranks, whether it is her slippers or a plant. However, once scolded, he does not repeat that particular prank. Everyone is pleased with his recovery and as he left the office, he actually happily stuck his tail up in the air.