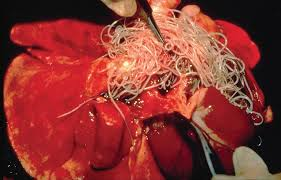 Harry was adopted by Ed's family earlier this year and as you can guess, he is an expert at escaping from confined areas. Cages, kennels… you name it. These antics keep the whole family on their toes and every vigilant regarding his whereabouts.
Just when this problem was dealt with harry decided to present another challenge. He came into the hospital in May for a health checkup, vaccinations, parasite control and a heart worm test. Harry was adopted from a rescue agency in Oshawa, but he had been sent there by a shelter in Ohio. He had gotten through the border security checks without anyone discovering that he was an unwitting accomplice in the spread of biological welfare. Harry had tested positive for heartworm. This new was certainly distressing to Ed who never expected to adopt a dog with a serious health issue. This is a good news/bad news scenario for the family. The bad news was that harry had to be hospitalized in order to undergo treatment to kill the heartworms. This procedure is very expensive and put more stress on the fami.t the happily went ahead, however since the good news is that he had an excellent progress of recovery.
If harry had not been tested and the condition was lowed to progress, it could have been fatal. Luckily, the annual heartworm testing and prevention program is an efficient and economical way to ensure our pet's protection against the formidable opponent. Harry will need to go for some further testing, but he's come through the treatment with flying colours.