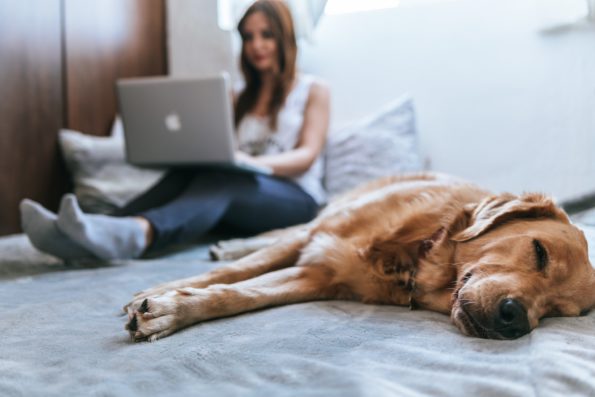 We are living through a moment of history that will be remembered for decades. The coronavirus pandemic has changed our everyday lives drastically.
We must all heed the advice of public health experts and remain physically isolated from others. Yet, many wonder how to seek pertinent veterinary care while under these restrictions.
We want to stress that we are doing everything we can to be here for your pets and prevent their suffering during this challenging time. Please see below for more information on how to safely access our services.
What to expect when bringing my pet for a veterinary visit:
We are allowing clients into the reception area only, and make every effort to allow only one client at a time into the reception area. This means that our door may be locked during business hours. If you encounter a locked door and do not see another client in the reception area, simply knock on the door or call and we will open the door for you.
We will stand at least 6 feet away from you while we ask pertinent questions about your pet. We will then examine your pet in a separate area and review our findings and treatment plan with you.
For your safety, and the safety of our staff, we are requesting that you do NOT enter the facility if you meet the following criteria (see below for more on how we can help you):

Anyone with symptoms of fever, cough, or shortness of breath OR anyone who has been in contact with someone with these symptoms
Anyone who has traveled outside of the country in the past 14 days
Anyone who has a health condition that causes immuno-suppression
Anyone over the age of 70
For those who cannot safely enter, or who prefer not to enter the facility:
Please call from your car once you have arrived at the clinic
We will take the pertinent information from you over the phone and then a staff member will collect your pet from your vehicle
Review of findings and plan for your pet is done over the phone, as is payment
Your pet and any medications are delivered back to your vehicle by a staff member
For those under strict quarantine, or those who do not feel comfortable leaving their home:
Call us to discuss the needs of your pet. In some cases we can do a telemedicine consult over the phone or via video-call.
Have a friend or family member bring your pet for examination if possible – we will review everything with you via phone
Free delivery of foods and medication is available for most clients within the Oakville, Burlington, and Mississauga areas.
Thank you to all of our clients for your patience and cooperation as we continue to fight the spread of COVID19 together!