Meet our caring and compassionate team!
Dr. Glauser and staff at Bucksburn Veterinary Hospital in Oakville work tirelessly to serve you and your pets! Read more about us below. You can reach one of us by calling (905) 257-7777 and we will be pleased to assist you!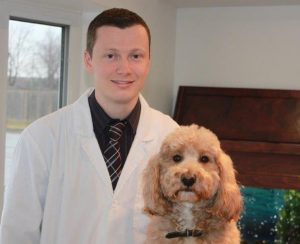 Dr. John Glauser – Ontario Veterinary College 2010

Dr. John Glauser graduated with his BSc degree from the University of Guelph in 2007 and earned his Doctor of Veterinary Medicine degree in 2010 from the Ontario Veterinary College (OVC). Since graduating, Dr. Glauser has worked at small animal clinics in Toronto and Stoney Creek, before joining Bucksburn Veterinary Hospital in 2014. Dr. Glauser's particular areas of interest include preventative medicine, surgery, dentistry, and neurology. He belongs to the veterinary information network (VIN) where the most up to date veterinary knowledge is shared amongst specialists and peers. Dr. Glauser has also attended conferences and instructional laboratories since graduating from OVC to keep up with the latest knowledge and techniques in veterinary medicine.
Dr. Glauser lives in Burlington with his wife and two daughters, in addition to his furry family member – Gryphon! Gryphon is Bucksburn's official mascot and as a Bucksburn staff member, he has his own description below. In his spare time, Dr. Glauser enjoys running, cycling, camping, and travelling.
Katrina – Head Receptionist, Veterinary Technician

Katrina has been a lover of animals all her life. The love affair started as a child on her great-grandmothers farm where she was constantly fussing with all the animals. It became more apparent with each critter that managed to "follow" her home (Kittens, Pigeons, a vast array of rodents…). She started working in Animal Hospitals in 2007 and hasn't looked back. She can be spotted around the clinic either assisting in surgery, helping with appointments, grooming or schmoozing with the clients. Outside of work she can be found chasing her dog Keyna through various parks in the area.

Rachel – Receptionist, Veterinary Assistant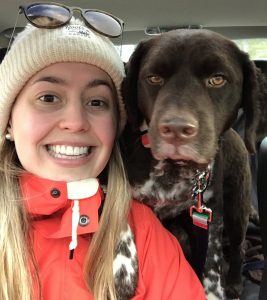 Rachel enjoys working with animals and saw it fitting to join the Bucksburn staff part-time in 2019. Rachel is experienced in safe, gentle animal handling techniques.

Jennifer – Receptionist, Veterinary Assistant

Jennifer grew up in Quebec and has many yeast working in veterinary clinics in both Quebec and Ontario. Jen aspires to find the perfect pooch to join her family but for now she is happy with her favourite feline, Sushi.

Elaine – Receptionist

Elaine has worked at Bucksburn since 2010. Originally from Coventry, West Midlands in the United Kingdom, Elaine has lived here in Ontario, Canada since 1982. She has worked extensively as a Receptionist and Veterinary Assistant in the Veterinary Hospital field since July, 2006. Elaine is married with three grown children. She has had many animals over the years, including hamsters, gerbils, dogs, and cats. Elaine thoroughly enjoys her position here at the hospital and feels very privileged to be working as part of our professional hospital team.

Sharon – Groomer

Sharon has been a groomer for dogs and cats in the Oakville area for over 25 years. Her vast experience in grooming certainly shows in the beautiful results in dogs and cats after their 'spa day'. She and her family currently have a beautiful English Bulldog that keeps her busy when she's not at the clinic.

Gryphon – Official Clinic Mascot, Greeter, and Paper Shredder

Gryphon is our all star clinic mascot! He is a cross between a Golden Retriever and a Poodle. Gryphon was born in late 2014. He claims to be impeccably trained, and will do just about anything for treats! If he's not too busy sleeping he will happily accept a quick pat from our clients, so please stop in for a visit today!