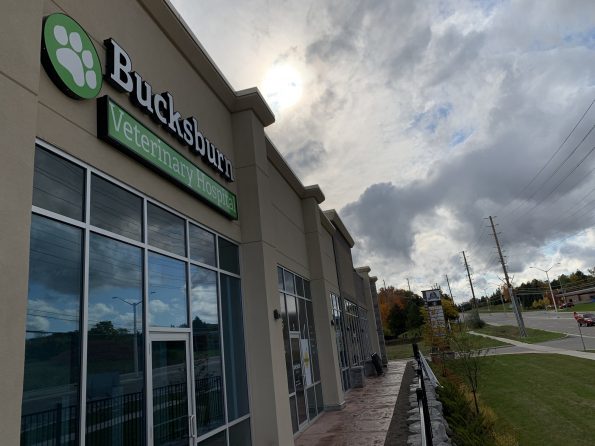 Our Oakville vets and staff are devoted to your pet's wellbeing!
Bucksburn Veterinary Hospital was established over 25 years ago when it was converted to a vets office from a boarding kennel. Bucksburn was originally located on the Eighth Line, then moved to a converted residence on Upper Middle Road, in 2004. After 15 years at this location, Bucksburn was moved again to its brand new home at 1915 Ironoak Way in 2019! We are conveniently located close to the 403 and QEW highways.
We have always strived to provide excellent customer service. We treat our clients as our personal friends and their pets as our own! We always welcome visitors, so please stop by anytime. We know there are many choices for vets in Oakville, and we hope you will choose Buckburn Veterinary Hospital because of our personal care, exceptional customer service, and knowledgeable, experienced, and skilled vets and staff.
We provide complete veterinary services for our clients including vaccination, deworming, microchip implants, flea and heartworm prevention, spay and neuter surgery for puppies and kittens as well as adult dogs and cats, dental cleanings, tooth extractions, additional surgery such as mass or growth removals, bladder stone removal, or emergency stomach or intestinal foreign body surgery, hospitalization, diagnostic testing including blood testing, fecal testing for parasites, heartworm testing, and urine testing. We also provide grooming services to ensure your dog or cat is looking their best! Should your pet ever require a specialist we can help with the referral process. We are always happy to welcome new clients from Oakville, Mississauga, and surrounding areas.
Click here to take a tour of our facility
Contact us today at (905) 257-7777 or fill out this online form to schedule your pet care appointment with our friendly and dedicated veterinary team!