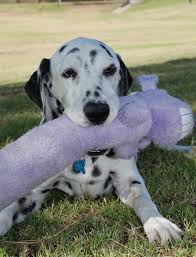 There are always certain clients you can recognize before you ask for their name. For example, when I'm working and I'm asked for the "big bottle of insulin" (as opposed to the little bottles most clients order for their diabetic pets), I know without looking up that it is probably for Daisy.
Daisy is a lovely nine year old Dalmatian who has become a clinic regular for diabetes management. Daisy's diabetes came on quite suddenly, and since her diagnosis, her blood glucose levels are monitored regularly for proper treatment. According to Daisy's dad, this is some difficult since she tends to "eat anything that moves". Unfortunately, Daisy is also afflicted with cataracts, and at one point she completely lost her vision and had to see an animal ophthalmologist in Oakville. The family considered eye surgery, but decided that it was too risky because of her diabetes. Luckily, the cataracts dissolved and her vision was restored.
Throughout all her ordeals, Daisy has remained a happy, outgoing, and friendly dog who is great with her owner's children, cat, and three guinea pigs. When asked what Daisy has given back to the family, there was a slight pause, a loud laugh, and then the confident answer of "She's a nice dog… having her is great." We couldn't agree more. This is one dog whose health problems have not affected her co-operative and pleasant disposition. See you soon, Daisy!