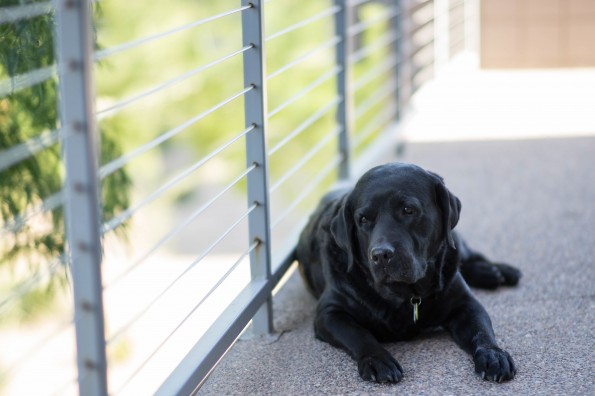 This week's case summary features Bob, a 12-year-old Lab Mix, weighing in at close to 100lbs.  As a typical young lab, Bob lived life to the fullest.  He enjoyed the large property his family lived on and would regularly roam around, chasing the various wildlife away from his domain.  Bob also loved summer weekends at the family's river property, and would spend hours swimming and taking giant leaps off the end of the dock.
As Bob aged, his family noticed a decline in his exuberance.  He paused before climbing stairs, took less interest in play sessions and his time spent swimming at the river was a fraction of what it was in his younger days.
The change happened gradually and Bob's family chalked it up to 'aging'.  But Bob progressed to staying on his bed for the majority of the day.  He walked with stiff, short steps after getting up.  He couldn't climb stairs without assistance.  It was clear his pain was becoming too much.
Bob's family worried the time may have come to say good bye.
When Bob visited me, it was clear he was suffering.  He groaned and grumbled when his limbs were manipulated.  His joints had a characteristic 'crunchy' feeling when they were flexed and extended, and they had reduced flexibility.  He lad a laboured gait and needed help getting into and out of the car.  He was diagnosed with advanced degenerative joint disease, or arthritis, affecting his elbows, hips, and knees.  However, Bob still had a happy expression on his face and his tail wagged when the clinic staff greeted him.  The remainder of his exam appeared normal for a dog of his age.
I prescribed a course of a joint supplement called Dasuquin (containing glucosamine, chondroitin, and other beneficial joint health ingredients), combined with an anti-inflammatory medication.
Bob's family were thrilled to see improvement right away.  The following day, Bob had spent much less time on his bed and was back pestering his family for food at the dinner table.  Within a few weeks Bob was going for longer walks, climbing up and down the stairs with relative ease, and was caught sleeping on the couch – a place he hadn't been able to climb onto for several months.  Bob even jumped off the end of the dock again this weekend!
He may not have the same agility and energy he had as a juvenile, but Bob has improved dramatically from where he was just months ago.  Bob and his family look forward to enjoying this summer and his new lease on life!